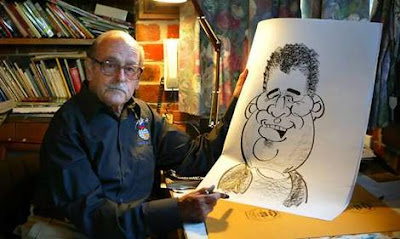 Bill "Weg" Green and his burglar. Photo by Craig Abraham
.


Here is a story from 2006 -- one I never heard of.
The moral is: never, ever commit a crime against a cartoonist. The criminal will lose.
When a criminal broke into caricaturist Bill "Weg" Green's property, shoving him, cursing, and trying to get away on Weg's grandson's bike -- Bill needed only a moment to draw the perpetrator.
"'We were mainly concerned with catching the offender who was still in the area,' said Senior Constable Aaron Roche of Ringwood police.

"'I thought (the drawing) might be a stick figure or something like that.'

"Seconds later, Mr Green — who still works daily drawing private, AFL and other corporate caricatures, as well as running a gallery — provided a detailed drawing of the burglar's face.

"'It was amazing, the likeness was just fantastic,' Senior Constable Roche said."
The Age has the full story.
Weg Green illustrated the Australian Football League posters from 1954 until he passed away last year.
Hat tip to
Small & Big!
I'm just sorry I'm 3 years late on this.
Above image from the
Saxton
site.