Mom always told you it wasn't polite to STARE -- by extension, STARE Magazine is impolite -- and not the kind of thing your mom would approve of.
It's sexy, but in a kinda retro Austin Powers "Oh, behave!" way, with a lotta cheesecake photo essays with titles like "Cutey and the Cuticle" and "Overly N. Dowd." You get the picture. It was also a cartoon market. It was also -- surprise, surprise -- published by Marvel Comics.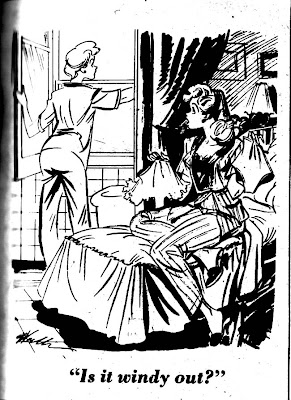 STARE, Exciting and Lively Picture Pleasure!
(yes, that's the whole title from the indicia) Volume 7, No. 3, October 1960 is copyright 1960 Timely Publications (now better known as Marvel). Steve Andre was the editor.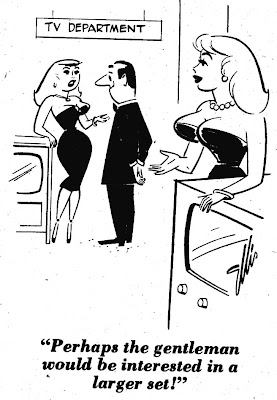 The digest-sized mag had a lot of "good girl photos," as well as over a dozen cartoons by cartoonists I have heard of, and cartoonists I have not.
Above is an atypical photo. This is Sylvia Steele, who, I know little else about.
I admire how the cartoonist Beattie is able to draw the frilly underwear and the folds in the doc's clothing.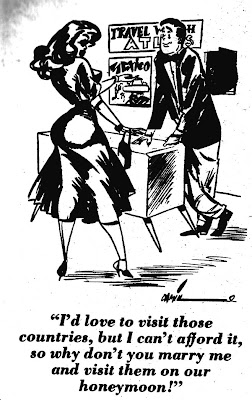 Above: this is a poor reproduction from this yellowing magazine. The girl sure doesn't look like the kind you want to take home to mother!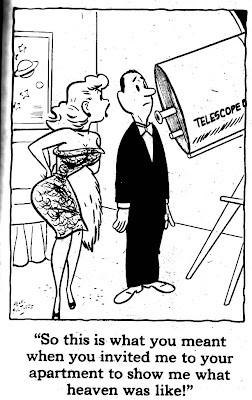 Above: Henry Boltinoff, a prolific cartoonist if ever there was one, shows us the goofy-headed love life of the nerd. A tip off: the bow tie.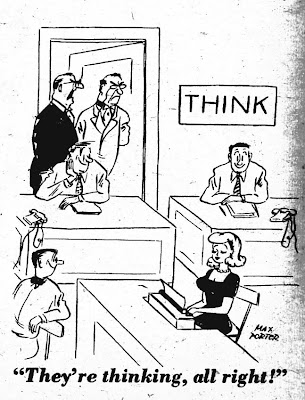 I don't know who Max Porter is but he knows that by putting black spotting in the boss' suit and in the woman's dress, our eyes will see who we are supposed be paying attention to, and readily get the gag.
Above: a really breezy pen (or brush) style overshadows the weak gag. Look at the juxtaposition of bodies. The cartoonist (I can't guess his name from the signature) knows his anatomy. No pun intended.
Edit: My friend Ger Apeldoorn IDs the cartoonist:
The cartoonist whose signature you can't decipher is Albistur. He is a frequent guest in the Humorama books and I have seen him around at other places too. His name stuck to my mind, because he turns up as a serious artist in Simon and Kirby's Mainline books, especially Police Trap.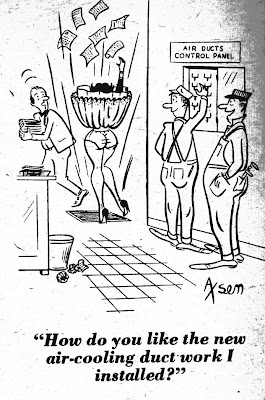 "Axsen" (?) gives us a typical goofy gag.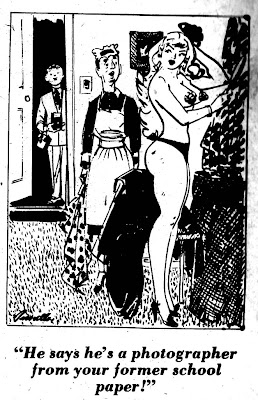 Above: some great black and white work in another so-so gag. Like I said, this copy of STARE has seen better days and some of the scans are not the best, regardless of Photoshop tweaking.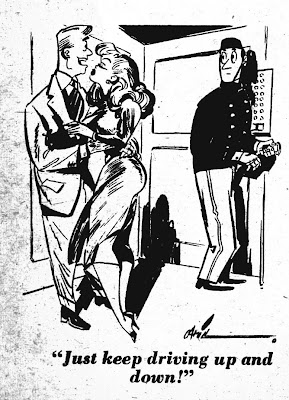 I really admire the working in of the shadows here, helping to pop put the figures.
What's fun about these cartoons are the sexy women who look like they enjoy being naughty. They also seem to all wear the same dark, clingy dress, with bodies like
Bill Ward
drew.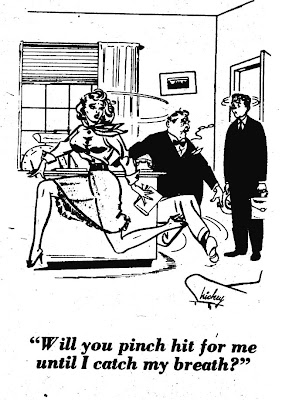 Above: a boss chasing the secretary cartoon. Sadly, like many corporations nowadays, the boss is outsourcing the job of chasing.
-- This was an edited encore presentation of an entry originally published on June 20, 2008.