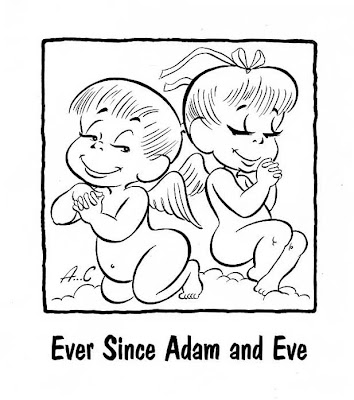 Above: Andriola and Casson collaborate on this pair of not-so-innocent cherubs for the frontispiece.
Here are a series of cartoons from the collection EVER SINCE ADAM AND EVE. This is all just so much great stuff in this book, I'm scanning way too much of it.
EVER SINCE ADAM AND EVE was co-edited by Alfred Andriola and Mel Casson, and copyright 1955 by those two great cartoonists as well. This collection is dedicated to and features a wide variety of
National Cartoonists Society
cartoonists. The first series of scans from the book are
here
.
Of the 11 images below dealing with dating and teen angst, five are drawn by professional women cartoonists.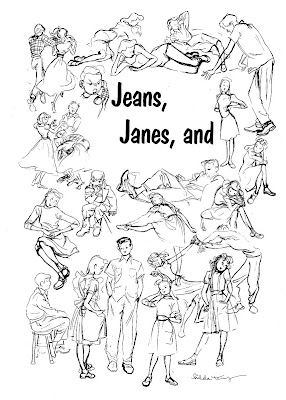 Above:
Hilda Terry
sketches teenagers -- on the phone, talking, sitting, lounging, dancing, goofing -- for the "Jean, Janes, and Growing Pains" chapter. This looks so much like a page ripped out of her sketchpad. I don't know if it is, but it looks like it. I wish there was more Hilda Terry in print.
From the Mike lynch Cartoons blog:
More on her comic strip Teena.
Hilda Terry remembrance.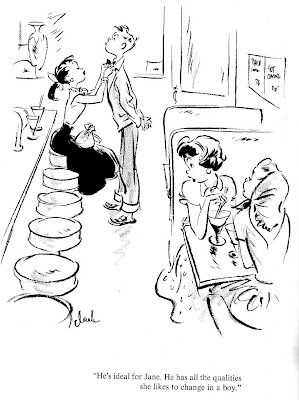 "He's ideal for Jane. He has all the qualities she likes to change in a boy."
Above is George Clark, with his dry brush on pebble board, giving us another deft look at middle America. One of my favorite originals that I won is a
Neighbors
panel by George Clark, that I got from Don Orehek.
Related:
Some great originals by George Clark
from the Mike Lynch Cartoons blog.
March 21, 1955 Time magazine on feature on George Clark.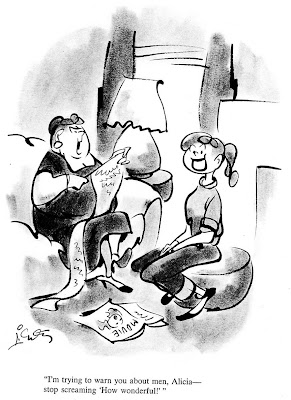 "I'm trying to warn you about men, Alicia -- stop screaming 'How wonderful!'"
George Lichty is another cartoonist with a loose style. Don't you love Alicia's expression, and Lichty's choice to have her staring at the reader?! Another sly, smoky glance like those angels that open the book.
More from his Grin and Bear It panels.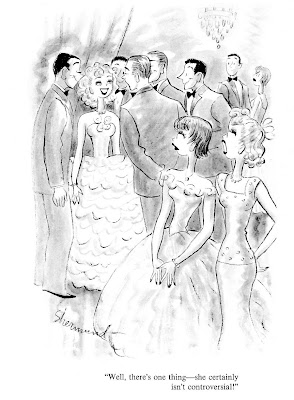 "Well, there's one thing -- she certainly isn't controversial."
I like the soft, almost gauzy, wash that Barbara Shermund uses in this slice of teenage life from days gone by. There is little more than a few mentions of her here and there. The Internet needs to catch up on her.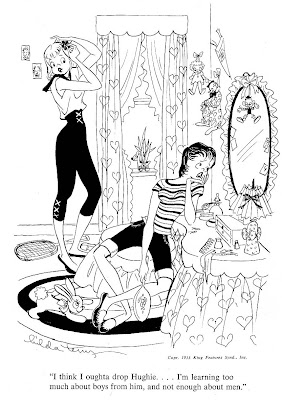 "I think I oughta drop Hughie . . . . I'm learning too much about boys from him, and not enough about men."
Hilda Terry, who created the Teena newspaper comic strip, is neck-and-neck with Marty Links for her ability to portray gangly teens.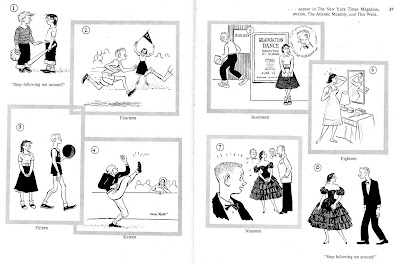 Above is a two page spread by Carl Rose. A name that's not familiar now, Rose had a long and prolific cartoon career. His clients included
This Week, The Atlantic Monthly,
and
The New York Times Magazine,
among others.
His seminal

New Yorker

cartoon
with the mother and little girl at the dinner table is a classic:
MOTHER:

It's broccoli, dear.




CHILD:

I say it's spinach, and I say the hell with it.
Actually, yes, Carl Rose drew it. As was accepted practice back in the early New Yorker days, a writer wrote the line. In this case, the one and only E.B. White.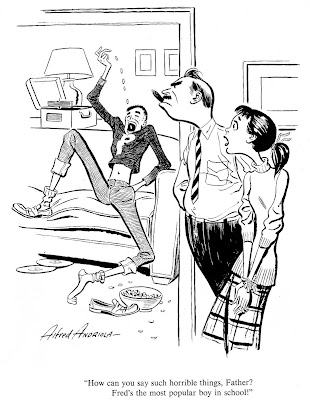 Alfred Andriola
shows he can draw lanky teens that out lank all others.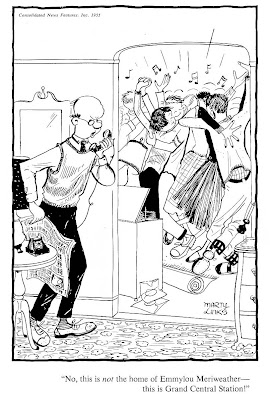 "No, this is not the home of Emmylou Merriweather -- this is Grand Central Station!"
Above is a cartoon by the creator of
Bobby Sox
,
Marty Links
, "one of the top teen-age delinaeators," so states the book. Her long-running comic outlived the bobby socks craze and it was rechristened
Emmy Lou.


Related:
More Bobby Sox
"Oh, Ronny, you shouldn't have. My father just planted that bush."
Here's the text that accompanies the above cartoon:
" ... Kate Osann, an equally deft artist, does

Tizzy

for Colliers."
I never heard of Ms. Osann! Perhaps I can find one of her
Tizzy
collections one day and share it.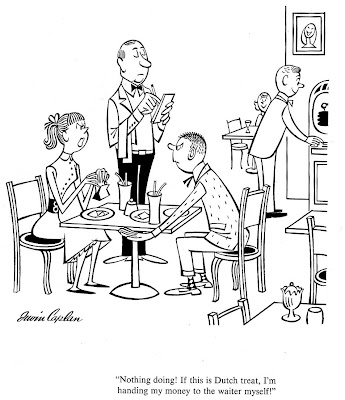 "Nothing doing! If this is Dutch treat, I'm handing over my money to the waiter myself!"
Any chance to show more of
Irwin Caplan
's designerly work. These two are on their way to the getting hitched for life, don'tcha think?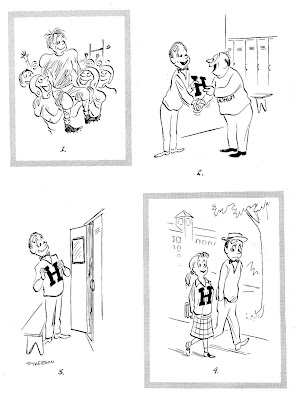 And last, one of the all-time chap cartoonists: Henry Syverson, with a message of love and loss!